Every Tongue, Tribe and Nation
November 26, 2018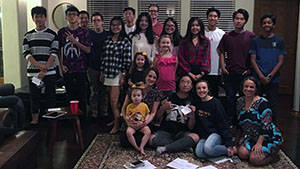 This year, our first child went to college. While he is only forty-five minutes away, not seeing him at the dinner table, saying good night to him or knowing how his day has gone has been an adjustment. What makes the process palatable is knowing he is where God wants him to be and that we want the best for him. With this in mind, I remember the first year I came to CHA, I was amazed at how many international students attended CHA. I could not believe that some of these students had attended CHA since they were in sixth grade. I think about how many of my international students do not get to see their families for a year! The sacrifices these families made for their children to attend school in the United States is far more than financial. I am so grateful for the work of Mrs. Audra King and our host home families who make this transition possible and positive. Most of these students have never heard the name of Jesus. I am even more thankful God has sovereignly brought the nations to CHA and even more importantly given us wonderful faculty members who share the gospel daily in their classrooms.
Sharing the gospel is the CHA Way. It is a fulfillment of our mission statement which states that we are called to "assist the home and church in building a solid foundation in the life of each student--a life which is characterized by a personal salvation experience, the development of Christian character, the Christian conscience and Christian self-government. The ultimate goal of the Academy is to produce true Christian scholars who will be used of God to propagate the Gospel throughout the whole world and to restore our American Christian Republic to its historic, Biblical foundation." Of all the things that I am grateful for at CHA, this is the pinnacle. There is no greater calling than to share the good news of Jesus Christ to the nations.
This Tuesday is #GivingTuesday. Last week, I asked you to pray how God may have you invest in CHA. Here are four opportunities for you to partner with us in the gospel:
Prayer - Please pray for the upcoming enrollment season. Our prayer is to enroll 100 new students. This increase is not about numbers. It is about influence. We believe that CHA has been called to train American Christian Leaders in every sphere of society. We have some of the best and most dedicated faculty and staff members in the state.
Capital Campaign - Christian Heritage Academy offers it supporters many opportunities to invest in improving the facility and transportation needs of students. The Pursuing Excellence campaign focuses on both academic and athletic building and transportation improvements. This is a $1.9 million project. Recently, we purchased two new buses which should be arriving in early January. On Thursday, November 27, we will be hosting a dedication/open house for our new Genesis Learning Center which was provided by the capitol campaign funds. We still need new monies to complete the third floor remodel and secondary STEM rooms. If you would like to give to this project or learn more about this, please click here for more information.
Heritage Fund - Christian Heritage Academy offers its supporters many opportunities to support student learning. Investors in the school's mission may give to the Heritage Fund which supports areas such as science, technology, fine arts, teacher grants and a variety of other areas in the school directly impacting student learning. Last year, monies given at the Heritage Banquet and from private donors funded items such as new chromebook carts for students, allowed teachers to attend conferences, enabled the establishment of a kinesthetic learning lab for lower elementary students (The Loop) and purchased innovative curriculum for classrooms. If you would like to give to the Heritage Fund or to learn more about this, please click here for more information.
Opportunity Scholarship Fund - The OSF allows taxpayers to redirect a portion of their state tax dollars to provide tuition scholarships for students attending a private school. Since 2014, CHA has received more than $1,085,000 in tuition assistance benefiting over 240 students. Your investment has changed Christian Heritage Academy by helping us increase our influence, broaden our diversity, and fulfill our mission of "producing true Christian scholars who will propagate the gospel and restore our nation to its historical Biblical foundation." For more information regarding OSF, click here.
Whether through prayer, the Capital Campaign, the Heritage Fund or the Opportunity Scholarship Fund, may we count on you this #GivingTuesday as we partner in sharing the gospel with the nations?
Have a great week!

Dr. Susan DeMoss
Associate Headmaster