Distinctively CHA
January 25, 2021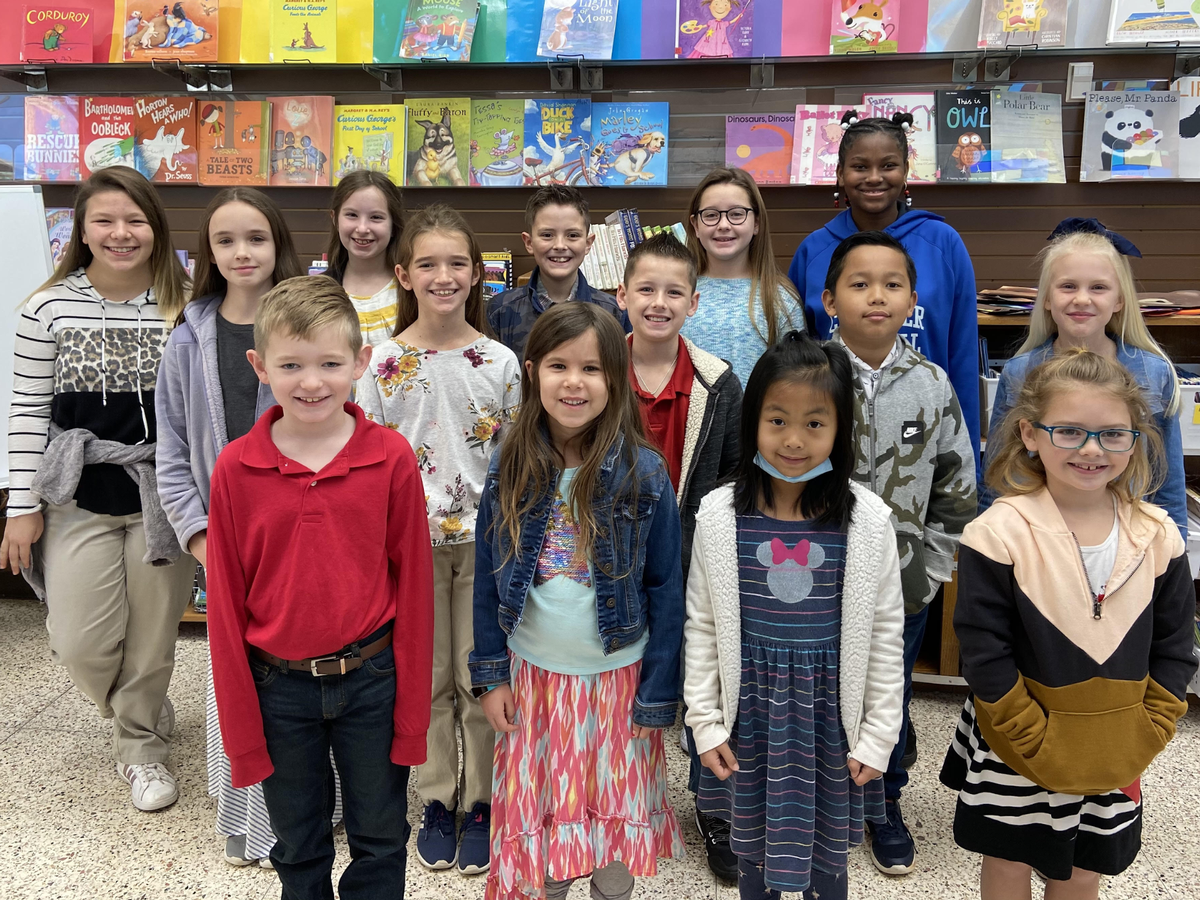 One of the distinctives of CHA is our belief that the "head is transferred on paper and the heart is transferred face to face." This philosophy is seen in how we train our new teachers. From our dean/mentor program to our monthly lunches and Wednesday afternoon training sessions, face-to-face instruction is key to transferring the heart of CHA. For we believe that God is faithful to his word found in Luke 6:40, "A student is not above his teacher. For when he is fully trained, he will be like him."
Over the course of the last ten months, face-to-face instruction in most schools has been nonexistent or a hybrid model. As research is done on the impact of distance learning and the lack of face-to-face instruction, studies are showing slight losses in reading and significant losses in mathematics. The impact is also seen at the collegiate level. The COVID-slide is the term used to describe this learning gap. Studies continue to validate the importance of face-to-face instruction.
I am so thankful that we have been able to return to five-day-a-week instruction which is face to face. I am thankful for our families who regularly read with their children and encourage them to read beyond what is assigned in class. Above is a picture of the winners of the elementary library reading challenge. Our librarian, Mrs. Benedix is doing an outstanding job making reading fun and engaging. She continually looks for ways to increase the reading opportunities for our students. I am also thankful for the highly-qualified math teachers that God has brought to CHA.
This spring, we are hosting five Heritage Dinners to celebrate what God is doing at CHA and support our ongoing commitment to excellence in education. If you have not had a chance to register for the event or be a table sponsor, please use the link provided or visit our website. We would love to enjoy the evening with each of you, face to face.
January 19, 2021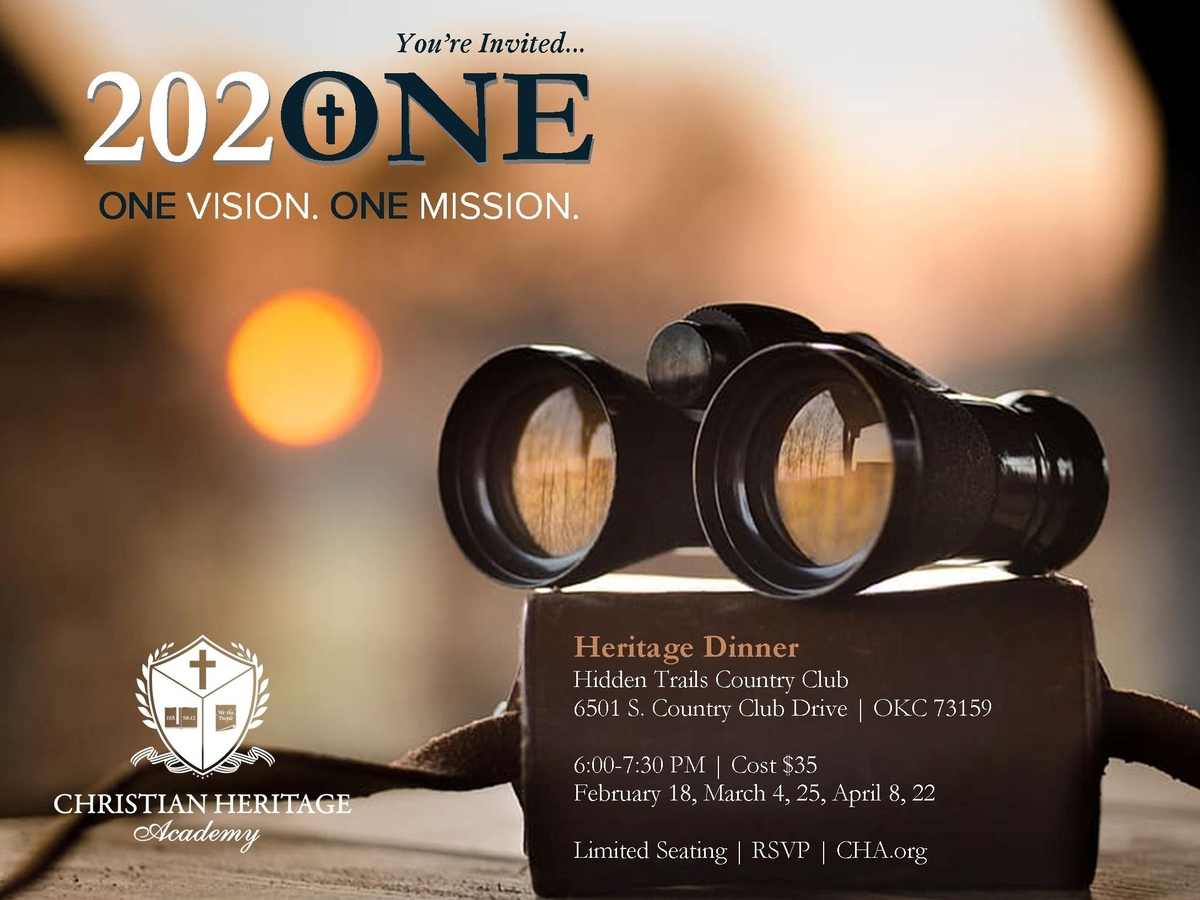 We are honored to invite you to the 2021 Heritage Dinners which will take place at Hidden Trails Country Club this spring. We are hosting five special evenings (February 18, March 4, March 25, April 8, and April 22) with limited seating to celebrate and give towards what God is doing at CHA. These events are for honored donors and CHA supporters to hear God's 202ONE mission and vision for CHA. The dinners are taking the place of the annual Heritage Banquet due to the current pandemic. In the past, the Heritage Banquet has been a tremendous opportunity to celebrate the legacy of CHA and give towards the internal academic needs of the school. The Heritage Dinners will provide a similar opportunity to celebrate God's work at CHA and allow donors to give to not only the internal needs but many exciting capital needs as well.
The cost to attend is $35/person. As in the past, we are encouraging friends and families of CHA to support these events through table sponsorships. The cost of underwriting the event is over $30,000. These sponsorships help defray the cost of the dinners as well as support the school. Our goal for the evenings is $100,000 in gifts.
We pray that you will join us at the 202ONE Heritage Dinners as we share the vision for what God has challenged us to pursue. We would also encourage you to begin praying for these dinners and that God would be glorified and the vision that He has given us would be clearly presented. With seating being limited, please respond at your earliest convenience.
For additional information, please feel free to contact Dr. Susan DeMoss at 672-1787, Ext. 233. You may register online at cha.org.
January 12, 2021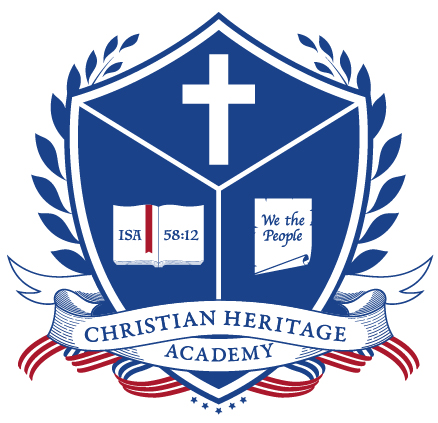 For almost fifty years, CHA has been committed to providing students with a Biblical education that upholds the inerrancy and sufficiency of Scripture through the lens of each subject. The result is that students from PK-12 grade learn to reason Biblically through ideas to develop a Biblical worldview. The purpose of this report is to highlight what God is doing at CHA and provide a snapshot of His plans for 2021. Each section includes a summary report as well as prayer requests. We encourage you to read the report and pray that the Lord will continue to use CHA as a training ground for Christian leaders who understand America's gospel purpose.
Student Body
In the midst of a global pandemic, God sovereignly provided for 575 students to attend CHA this year in-person. Through the generous donations to the Opportunity Scholarship Fund, over one hundred students received tuition scholarships. Re-enrollment begins in February with new enrollment to follow in March. Would you please pray that the Lord would bring all the families that He has for us for the 2021-22 school year? We are praying for a 95% re-enrollment and 100 new students for the Fall.
Faculty
CHA's faculty has grown to almost sixty faculty members. This year we added three new faculty members. Through our partnership with Oklahoma Wesleyan University, eight of our teachers completed their masters in education administration this fall. Thirty-four percent of our faculty holds an advanced degree. When ACSI reaccredited our school in the spring of 2020, this was a major commendation from the committee. God has blessed us with a highly qualified faculty. Please pray that God will continue to provide for our 2021-22 faculty needs.
Professional Development
Since 2007, CHA has dismissed classes on Wednesday afternoons at 12:25 pm to allow time for professional development. Teachers are trained in the school's distinct philosophy and methodology of education. This time is vital to preserve our calling and avoid mission drift. This year, we received three financial donations to bolster and preserve our professional development program. The monies provide teacher grants for our faculty to conduct personal research, attend conferences, and enhance student learning.
This year under the leadership of Mrs. Jennifer Crosby, our Business Director, the staff also receives training each week. From "tech tidbit" training each week to curriculum development, our faculty and staff continue to model Luke 6:40 which states, "A student is not above his teacher for when he is fully trained, he will be like his teacher." Would you please thank God for His provision and continued investment in our faculty and staff?
Academics
This year, CHA hosted its first Fine Arts Gala. Over two hundred people attended this event. From visual art to various performing arts, CHA's students displayed God's creative nature.
In elementary, our faculty began using our newly written Bible curriculum. This has been a three-year development process that integrates the catechisms, meta narrative, and Biblical reasoning. They have done an outstanding job.
In the secondary, our juniors and seniors were offered classes in which they could earn up to forty-six dual-credit hours and three hours of CLEP. CHA's robust dual-credit program allows our students to enter college as a sophomore and oftentimes graduate early or carry smaller course loads to ease the stress of college life. Would you please pray that God continues to foster excellence in our academic programs?
Athletics
Our athletic teams continue to excel, not only in strength but character as well. Coach Wolfard and the football team hosted a diversity forum with Millwood High School to discuss diversity issues in July. The dialogue promoted discussion and unity. Our cross-country, volleyball, and football teams made it to the state playoffs. This last weekend, our CHA boy's basketball team played in the finals at the Hinton Tournament. Our Athletic Director, Mr. Clint LittleJim, and our coaching staff have done an outstanding job working to keep our coaches and players safe. Would you please pray that God would continue to use CHA athletics as a platform for the gospel as they play for an audience of ONE?
Fiscal Report
2021 marks the close of the three-year capital campaign for the school. Monies raised from the capital campaign have provided new buses for the school, upgrades to our heating and air conditioning systems, and our new secondary science labs. While the initial capital campaign goals included the remodeling of the third-floor, we continue to pray for God's provision and some exciting prospects.
In the summer of 2020, God provided funds to upgrade our school security with Safe Defend and School Safe ID, and to remodel the elementary offices for increased visibility and accountability. These upgrades have greatly increased the security of our school. Please join us in praising God for His gracious provision.
We are excited to announce that in December, the board voted to begin raising funds for a new gymnasium. This practice gym will allow for more timely practices and games, indoor activities in inclement weather, and a wide variety of student activities. The new gym will be named the Ralph Bullard Training Facility after our patriarch Mr. Ralph Bullard who served at CHA for almost forty-eight years and was a beloved coach at CHA and in Edmond Public Schools. Would you please pray for God's provision towards this much-needed facility?
Due to the pandemic, we will not be hosting our annual Heritage Banquet. Instead, we are hosting five Heritage Dinners this spring for our donors and constituents to learn more about what God is doing at CHA and how to join Him in these endeavors. More information will be coming soon about the Heritage Dinners.
Thank you for being a part of the CHA community. God is at work in our midst. Our theme for the year was "Name Brand." Our focus this year has been to make much of God as we lift His name high.
"Not to us, O Lord, not to us, but to your name give glory, for the sake of your steadfast love and your faithfulness!" Psalm 115:1