Distinctively CHA
April 25, 2022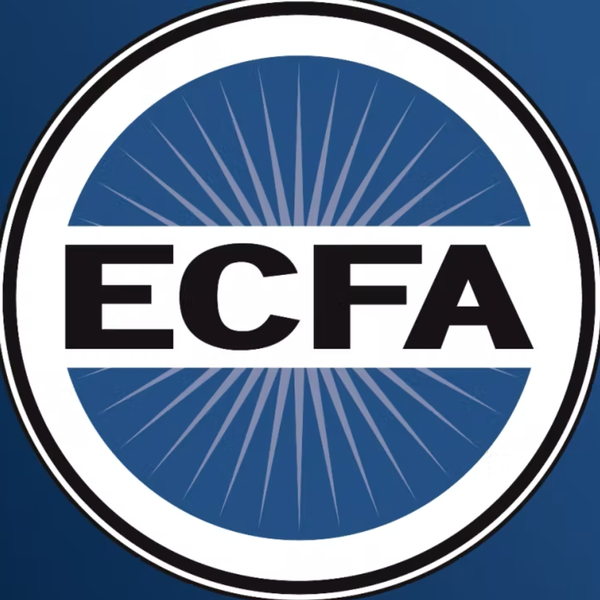 Recently, CHA recently became accredited through the Evangelical Council for Financial Accountability (ECFA). ECFA enhances trust in Christ-centered churches and ministries through its annual accreditation of organizations. Using its Seven Standards of Responsible Stewardship™, drawn from Scripture, ECFA's stamp of approval is the "gold standard" for financial stewardship.
ECFA serves as a financial accountability partner to ministries who voluntarily seek accreditation and demonstrate their commitment to ECFA's seven standards. Additionally, ECFA promotes financial accountability and best practices.
The ten standards of accountability are:
Conduct at least two board meetings per year.
Maintain proper minutes of board meetings and executive meetings.
Perform an annual review of the top leader's performance.
Document annual designation and approval of any ministerial housing allowance.
Approve the top leader's compensation annually.
Adopt a conflict of interest policy covering board members and key staff.
Conduct an annual audit.
Complete a self-awareness evaluation as a board.
Adopt a board policies manual.
Develop board recruitment and onboarding processes.
Thank you for your ongoing support of CHA. God has used Mr. Josh Bullard to provide a firm, fiscally-strong foundation in the life of the school. If you would like to learn more about opportunities to partner with CHA, please contact Dr. Susan DeMoss, call (405) 672-1787 ext. 233, or visit our school's website at www.cha.org.
April 18, 2022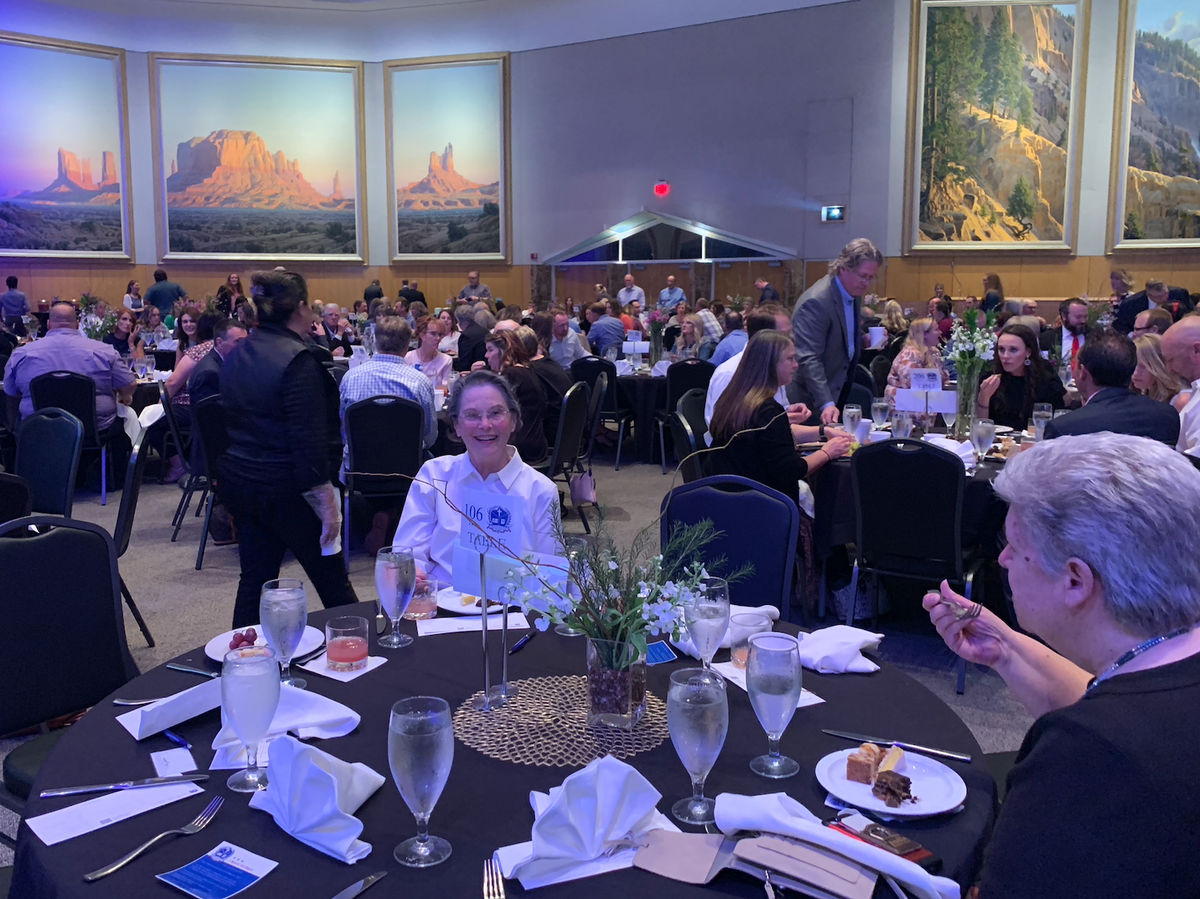 Last Tuesday night, CHA celebrated our fiftieth anniversary. The evening began with the inaugural announcement of the Liberty Leader Alumni awards. CHA's vision is to train American Christian leaders for every sphere of society. This year's recipients included Mrs. Laynie Snider from the sphere of business, Mr. Cole Cleveland from the sphere of the local church, Mr. Jon Echols from the sphere of government, and Mr. Monty Vann from the sphere of education. Each of these individuals uses their sphere as a platform of the gospel as they pursue excellence in their vocations.
Mr. Troop Bullard reminisced about the days of old with a montage of stories from Sunnyside and the early years of the school. Mr. David Holmes, CHA's School Ambassador, was the keynote speaker. With forty-eight years of service, he shared five stones of remembrance to encourage us to stay the course.
As Mr. Bullard looked ahead to the next fifty years, there was a spirit of gratefulness amongst the guests present. Gratefulness to gather together. Gratefulness to be a part of CHA. Gratefulness for the Lord's faithfulness.
If you would like a copy of CHA's commemorative fiftieth-anniversary book, please contact Rachel Mazzalongo, Development Assistant. The cost of each book is $25. All proceeds will go towards the Ralph Bullard Training Facility.
April 11, 2022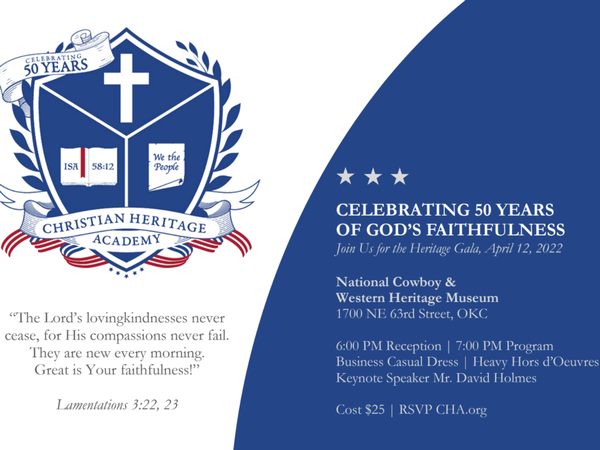 The Heritage Gala is Tuesday, April 12, 2022, at the National Cowboy and Western Heritage Museum. Over four hundred and fifty friends and family of CHA have registered for the gala. Registration will begin at 5:30pm. The mix-and-mingle reception with hors d'oeuvres from 6-7pm is designed for guests to enjoy each other and hear what the Lord has been doing. At 7pm, the program will begin. Mr. Holmes, the School Ambassador, is the keynote speaker. Having been at CHA for forty-eight years, Mr. Holmes has a unique perspective on God's faithfulness. There will be a short program, and the first annual "Liberty Leader" winners will be announced.
Table sponsor and ticket sales proceeds go towards the Heritage Fund, the school's academic needs. We would like to thank our generous sponsors for this year's Heritage Gala.
Benefactor
Hidden Trails Country Club
Platinum
Broadway Tag
Executive
Kimray
Visionary
Bags, Inc.
Barefoot Homes, LLC
Leatherwood Family
Stellar Realty
WatersEdge
Ambassador
Hill Insurance Agency
Homes by Breann
Immediate Care
Innovative Prosthetics and Research, LLC.
Lingo Construction
Pioneer Real Estate
Representative Jon Echols
Reynolds Prime Real Estate Team
Tinker Federal Credit Union
Legacy
Curry Family
Zac and Kate Graves
Immediate Care
Nguyen Family
Snider Family
Trey and Meredith Tipton
Wolfard Family
Tim and Deborah Young
If you have not registered, there are a few spaces available. Please contact Mrs. Mazzalongo at rmazzalongo@cha.org before noon on Tuesday.