TikTok BANG
March 25, 2022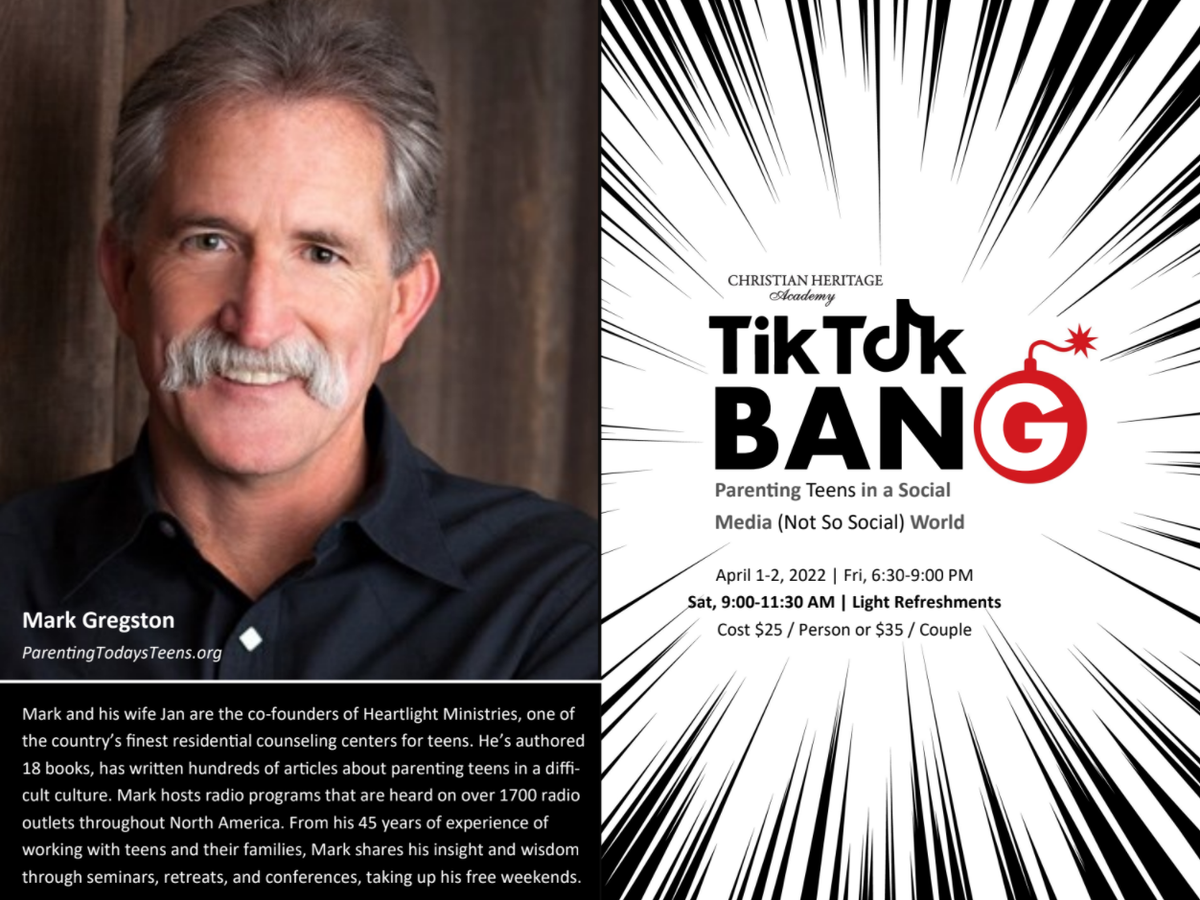 With only one week until the parent seminar, Christian Heritage Academy is honored to host Mark Gregston from Parenting Today's Teens and Heartlight Ministries. CHA has had two alumni serve Heartlight. Below is testimony from one of our graduates—
I have had the privilege of working for Heartlight and alongside Mark Gregston for the past year. Heartlight is a refuge and answer to prayers for many families as it changes lives and gives hope for the future. When parents are out of options, Heartlight provides a home to keep teenagers safe and challenge them to want something different for their life. Parenting Today's Teens is instrumental in giving parents tools for navigating today's culture. Mark's seminars, podcasts, and books are valuable resources that challenge parents and grandparents to understand better their kids and the role they play. Mark dedicated his life to serving, and God has used him to help numerous people turn their life around. I am proud to have served families as a residential staff for a year and am excited to further my time at Heartlight. I am transitioning into my new role as the event coordinator, where I will work closely with Mark. For anyone who has a heart for struggling teenagers, ministry, or finds themselves in a difficult family situation, I encourage you to attend Mark's seminar. It will be a fun weekend well worth your time.
April 1st & 2nd, 2022
Christian Heritage Academy
4400 SE 27th St.
Del City, OK 73115
Open to the Public
Agenda
Friday Evening—6:00 P.M.–8:30 P.M.
6:00 P.M.—Doors Open & Registration
6:30 P.M.—Welcome: Mr. J. Bullard
6:35 P.M.—Session 1: What's So Different About Today's Culture?
7:25 P.M.—Break & Light Snacks
7:40 P.M.—Session 2: Why Traditional Parenting No Longer Works—Part 1
8:30 P.M.—Closing Remarks: Mr. J. Bullard
Saturday Morning—8:30 A.M.–11:30 A.M.
8:30 A.M.—Doors open; Book Sales; Light Breakfast
9:00 A.M.—Why Traditional Parenting No Longer Works—Part 2
10:15 A.M.—Break
10:30 A.M.—Session 3: A New Model for Parenting Teens
11:30 A.M.—Closing Remarks
Book Sales
12:00 P.M.—Book Sales End
If you have any questions, contact Dr. Susan DeMoss at 405-672-1787, ext 233.