The Heritage Gala Is Tomorrow
April 11, 2022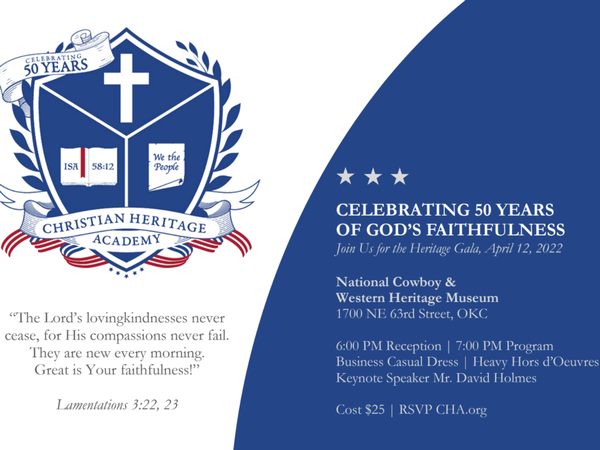 The Heritage Gala is Tuesday, April 12, 2022, at the National Cowboy and Western Heritage Museum. Over four hundred and fifty friends and family of CHA have registered for the gala. Registration will begin at 5:30pm. The mix-and-mingle reception with hors d'oeuvres from 6-7pm is designed for guests to enjoy each other and hear what the Lord has been doing. At 7pm, the program will begin. Mr. Holmes, the School Ambassador, is the keynote speaker. Having been at CHA for forty-eight years, Mr. Holmes has a unique perspective on God's faithfulness. There will be a short program, and the first annual "Liberty Leader" winners will be announced.
Table sponsor and ticket sales proceeds go towards the Heritage Fund, the school's academic needs. We would like to thank our generous sponsors for this year's Heritage Gala.
Benefactor
Hidden Trails Country Club
Platinum
Broadway Tag
Executive
Kimray
Visionary
Bags, Inc.
Barefoot Homes, LLC
Leatherwood Family
Stellar Realty
WatersEdge
Ambassador
Hill Insurance Agency
Homes by Breann
Immediate Care
Innovative Prosthetics and Research, LLC.
Lingo Construction
Pioneer Real Estate
Representative Jon Echols
Reynolds Prime Real Estate Team
Tinker Federal Credit Union
Legacy
Curry Family
Zac and Kate Graves
Immediate Care
Nguyen Family
Snider Family
Trey and Meredith Tipton
Wolfard Family
Tim and Deborah Young
If you have not registered, there are a few spaces available. Please contact Mrs. Mazzalongo at rmazzalongo@cha.org before noon on Tuesday.