One Week Left
March 27, 2023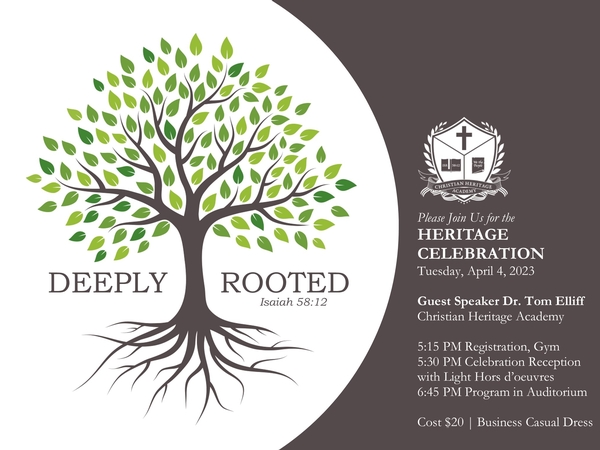 There is only one week left to register for the Heritage Celebration on April 4th at Christian Heritage Academy. CHA has already received over two hundred and fifty guests in attendance. Will you be ONE of them who helps us give thanks? Registration will begin at 5:15 pm. The gym will have a mix-and-mingle reception with heavy hors d'oeuvres from 5:30–6:30 pm. Following the reception, the program will be in the auditorium. Dr. Tom Elliff is the keynote speaker. During the program, the "Liberty Leader" winners will be announced.
If you have not registered, please use this link. Table sponsorships and ticket sales proceeds go towards the Heritage Fund, the school's academic needs. From table sponsors and ticket sales, we have over $23,000 given to the Heritage Fund. We would like to thank our generous sponsors for this year's Heritage Celebration.
Honorary Sponsors
Zac and Kate Graves
Tom & Kay Hill
Trey and Meredith Tipton
Lloyd and Carie White
Platinum ~ $10,000
Broadway Tag
Stellar Realty
Visionary ~ $3000
Bags, Inc.
Reynolds Prime Real Estate Team
Ambassador ~ $1500
Echols Family
Caddell and Co., LLC
Good Soil Foundation
Hill Insurance
Immediate Care
Innovative Prosthetics and Research
Lingo Construction
Pioneer Realty
WatersEdge
Legacy ~ $1000
​​Ace Cole Enterprises, Inc.
Johnston Family
Snider Family
Young Family
If you would like to sponsor a table or know someone who would like to participate in our celebration, please use this link. Join us in thanking the ONE who alone is worthy of praise.