Generosity
February 08, 2021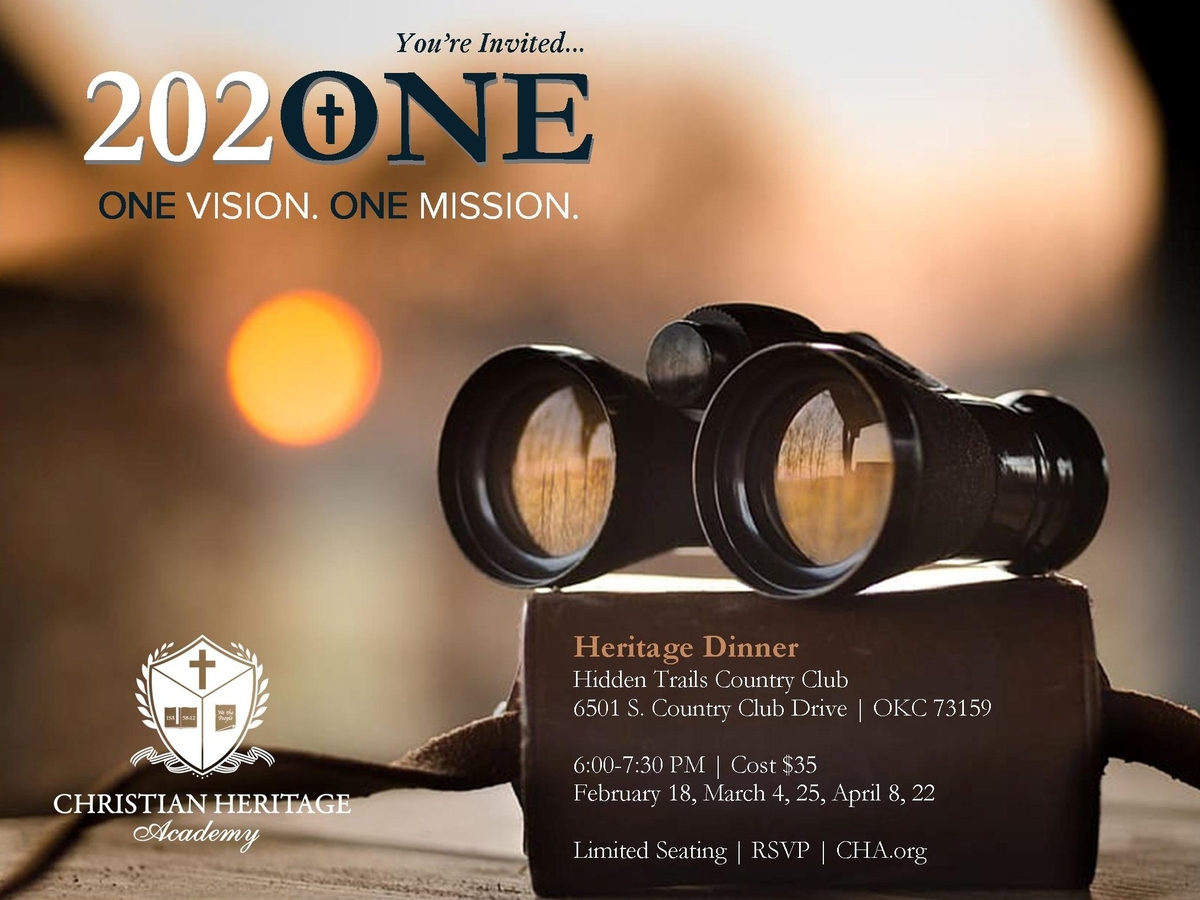 Mr. Ralph Bullard, CHA's patriarch from 1973-2020, annually read the story, "The Nickel That Laughed" to the elementary school. He was known for saying that "frugalness allows giving." Whether it is time or money, resources are a limited supply. As Americans, we are blessed with many liberties from religious liberty to economic liberty. We have the personal liberty to give to those in need as well as support initiatives that align with our values.
We are hosting five Heritage Dinners at Hidden Trails Country Club on February 18, March 4, March 25, April 8, and April 22. Faculty members will be contacting their homeroom parents to invite them to sit with them at one of these events. When you register, if you would like to sit with your teacher, please make sure to select the date that your teacher will be attending and then click the teacher name in the "I was invited by" box.
Just last week, we received a donation to underwrite the Heritage Dinners in honor of the Bullard Family in remembrance of Mr. Ralph Bullard. This generosity allows for all ticket sales to be designated to the fund of their choice at the banquet and will be considered a tax-deductible gift. One option for giving is the Heritage Fund which goes towards the internal academic needs of the school. Ralph Bullard Athletic Training Facility Fund monies will go towards the building of a new practice gym facility. The Excellence Fund is for undesignated gifts. If you cannot attend one of the dinners but would like to give towards one of these funds, please use this link.
We would like to thank this year's sponsors that have already registered:
Benefactor — Underwriter ~$30000
Bullard Family in Honor of Mr. Ralph Bullard
Executive Level Sponsors ~ $5000
Bryan's Flooring, Inc.
Immediate Care & Margins PLLC
Mr. and Mrs. Lloyd White
Ambassador Level Sponsors ~ $1500
Mr. and Mrs. Mark Spangler
Tinker Federal Credit Union
Mr. and Mrs. Trey Tipton
Legacy Level Sponsors ~ $1000
Big Boys Hobbies Metal Detectors ~ Mr. and Mrs. Bart Davis
Mr. and Mrs. Zac Graves
Rankin & Thomas Families
If you would like to register for this event or sponsor one of the dinners, please use this link.
If you have any questions, please feel free to contact Dr. Susan DeMoss at 672-1787 ext 233 or Mrs Robin Gonzalesat rgonzales@cha.org. Thank you for praying for CHA and these upcoming dinner events.