Even Better
February 22, 2021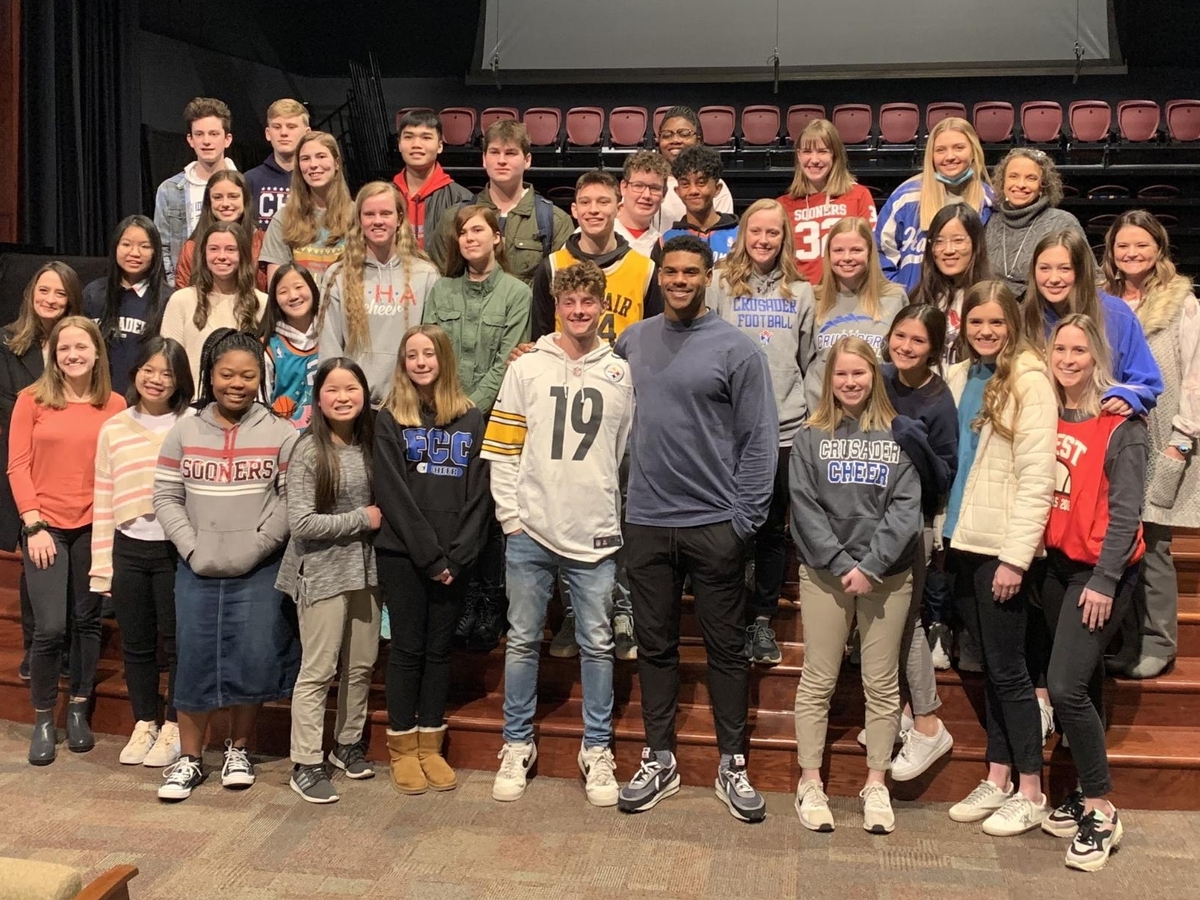 February 8-12 was the second annual Black History Week at CHA. Each One Reach One (E1R1) hosted the week. There were bulletin boards highlighting the accomplishments of Christian African Americans. There were announcements sharing stories of key individuals who God has used to impact our world for His glory. President Landon Crosby began working in the fall to have Mr. Andre Levrone as our guest speaker. Mr. Levrone was a former NFL player who is a bold believer in Christ. He spoke at the chapel on February 11 and reminded the students of where their true identity is found. He was approachable and wise. The entire week was even better than E1R1 could have ever planned.
God's sovereignty and goodness are constant reminders that He has even better plans than what we can see. Our distance learning experience from the spring of 2020 allowed for CHA to establish a strong option for online learning when in-person classes are not an option. We are incredibly blessed by teachers and families who diligently worked to make last week a productive learning experience. The learning that occurred on those snow days was even better than any of us could have imagined one year ago.
The first of the five Heritage Dinners at Hidden Trails Country Club was supposed to be on February 18. As the snow raged on, our plans were redirected. Isn't it good to know that God's plan is even better than our plan? There are four more dinners scheduled — March 4, March 25, April 8, and April 22. We would love for you to attend. As you know, we have always done a large Heritage Banquet. We are praying that once again, these Heritage Dinners will be even better than we ever prayed for or could have imagined. Our desire is for all to come and hear what God is doing at CHA and how they can be a part of this God-sized vision. When you register, if you would like to sit with your teacher, please make sure to select the date that your teacher will be attending and then click the teacher name in the "I was invited by" box.
We have been blessed to receive a donation to underwrite the Heritage Dinners in honor of the Bullard Family in remembrance of Mr. Ralph Bullard. This generosity allows for all ticket sales to be designated to the fund of their choice at the banquet and will be considered a tax-deductible gift. One option for giving is the Heritage Fund which goes towards the internal academic needs of the school. Ralph Bullard Training Facility Fund monies will go towards the building of a new practice gym facility. The Excellence Fund is for undesignated gifts. If you cannot attend one of the dinners but would like to give towards one of these funds, please use this link.
We would like to thank this year's sponsors that have already registered:
Benefactor — Underwriter ~$30000
Bullard Family in Honor of Mr. Ralph Bullard
Executive Level Sponsors ~ $5000
Bryan's Flooring, Inc.
Immediate Care & Margins LLC
Mr. and Mrs. Lloyd White
Ambassador Level Sponsors ~ $1500
Mr. and Mrs. Paul Blair
Innovative Prosthetics and Research
Mr. and Mrs. Mark Spangler
Tinker Federal Credit Union
Mr. and Mrs. Trey Tipton
Legacy Level Sponsors ~ $1000
Big Boys Hobbies Metal Detectors ~ Mr. and Mrs. Bart Davis
Mr. and Mrs. Zac Graves
Rankin & Thomas Families
Mr. and Mrs. Rod Wolfard
Mr. and Mrs. Tim Young
If you would like to register for this event or sponsor one of the dinners, please use this link.

If you have any questions, please feel free to contact Dr. Susan DeMoss at 672-1787 ext 233 or Mrs Robin Gonzales at rgonzales@cha.org. Thank you for praying for CHA and these upcoming dinner events.