Woven
January 14, 2019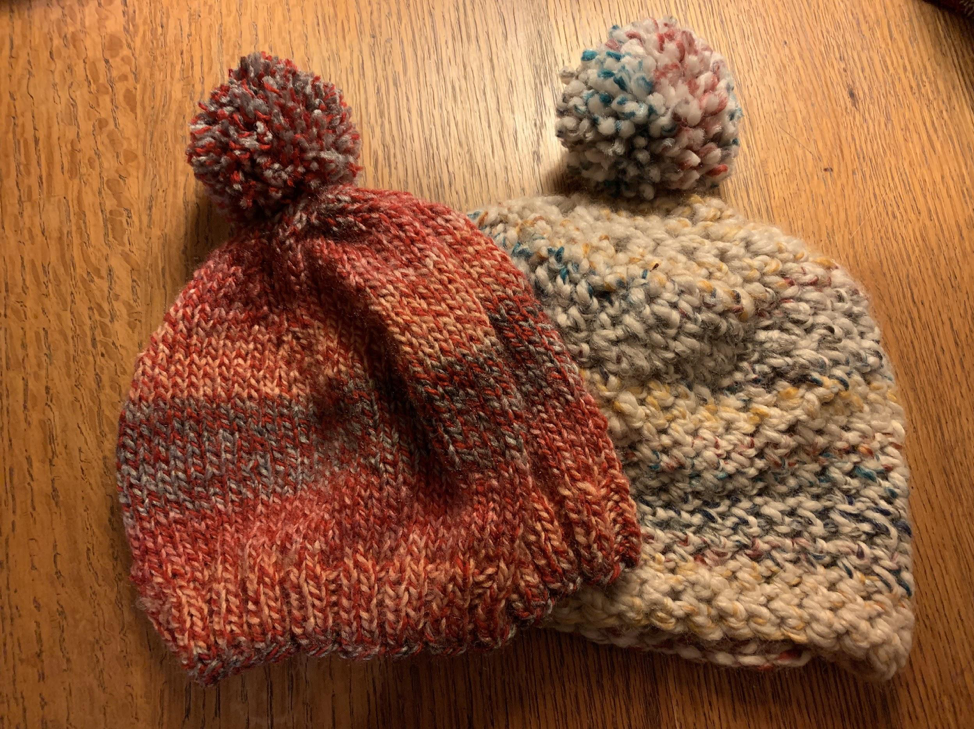 This year, Miss Bower has begun a knitting club for high school girls. On Mondays, a dozen young ladies meet in room 109 and learn to knit. The picture attached is an example of some of their work. God's Word speaks of knitting at least fourteen times in the Scriptures. God knit us together in the womb (Psalm 139:13-15). He knits us to each other (Col 2:2).
One of the mysteries of God is how He knits people's paths together. God moved our family to Bartlesville, Oklahoma in 2001. While in Bartlesville, Oklahoma, I became an adjunct professor of Statistics at Oklahoma Wesleyan University (OKWU). Our first child began school in 2005. He attended the Bartlesville Wesleyan Christian School. At the new parent dinner, our family was paired with a mentor family. Our mentor family was Dr. Everett and Marci Piper. Dr. Piper had been the President of Oklahoma Wesleyan University since 2002.
Upon returning to Oklahoma City in 2006, I began teaching at CHA. As the new Calculus teacher, I asked Mr. Holmes about offering college credit for our calculus class since we used a college-level textbook. Mr. Holmes gave me the liberty to explore this idea and I called a few universities in the area. The door was not opened.
Then one spring in 2008, I received a generic letter to the school with the opportunity for dual-credit coursework. The university was interested in not just offering the college credit but also partnering with Christian high schools to support Kingdom education. The school was Oklahoma Wesleyan University. As the door began to open, a strong partnership was birthed. God continued to knit a path together.
The first year that we offered college credit, CHA had to buy new College Algebra textbooks for the fall semester. This was an $8000 investment. The investment reaped a mighty return! The response from our parents and students was extremely positive. Their desire was for CHA to offer Trigonometry in the spring but funding was not available to buy the college-level Trig books. I asked the students to pray for direction. I spoke with some of the administration at OKWU. To our delight, they offered to buy us an entire set of college-level Trig books for free to help us establish our dual-credit offerings. God had answered our prayers and knit us together again.
This partnership continues to be woven today. In the Fall of 2016, the United States Higher Learning Commission declared that only high school instructors with at least 18 hours of master's level course work in the field of concentration would be qualified to teach a dual-credit course. While we could continue to offer some of the dual credit classes, this meant that we could not offer American History or English Composition 1 and 2 for dual credit without Mr. Ferguson and Miss Bower returning to school. Both teachers expressed a desire to continue the dual-credit program but financial constraints were present. I once again approached the administration at OKWU. They offered to pay for the hours each teacher needed to be qualified to continue offering the dual-credit coursework. We currently offer 29 hours of dual-credit. Thank God once again for His provision!
OKWU's commitment to CHA has been more than a program. They have demonstrated again and again their vow to partner with us in Christian education. They allow our secondary teachers to use their classroom plagiarism software for free. They are a strong resource to us in cultural impact issues in education. In the Fall of 2018, eight of our faculty began a Masters in Education Administration program through OKWU. This was made possible for our teachers as a result of special funding offered by OKWU. What God began to weave together in 2004 continues to develop into a beautiful tapestry.
This is why CHA is honored to have Dr. Everett Piper speak at our 2019 Heritage Banquet. He has graciously agreed to speak at this event for free and also provide signed copies of one of his books for those who attend the VIP event. Once again, OKWU's investment in our school will directly impact student learning as the reduced costs of the banquet will allow more of the proceeds to go towards the internal needs of the school.
I would like to encourage you to attend, this year's banquet. Dr. Piper is known for his strong Christian convictions, commitment to the Word of God and his engagement of the culture. This banquet is CHA's largest school-wide event which highlights the mission and vision of our school. Prospective families are free. Tickets are $35. Online registration is available here.
I am so grateful that God is the Master Weaver who moves in mysterious ways. May He continue to weave many more families into the fabric of CHA (Col 2:2). Please pray for the upcoming Heritage Banquet and even more importantly thank God for the masterpiece that He is knitting.
For His Glory,
Dr. Susan Elaine DeMoss
Associate Headmaster