Save the Date
December 03, 2018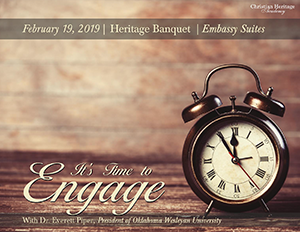 I remember receiving my first "Save the Date" card for a wedding many years ago. I opened the card and was surprised to see it was an announcement to the announcement. My first thought was "This is fun but why is it needed." As my kids have grown older and life has gotten busier, I realized that "Save the Dates" are not only helpful but necessary to ensure the important events are not missed. Thus, it is my pleasure to share with you the "Save the Date" for the 2019 Heritage Banquet. Each year at CHA we come together to remember and celebrate what God has done here and continues to do. This celebration is called the Heritage Banquet. It is a time for life-long friends and families of CHA to celebrate God's faithfulness. It is a time for new friends and prospective families to come and hear what God is doing. It is a special time.
This year's theme is Time to Engage. John 9:4 states, "We must work the works of Him who sent me while it is day; night is coming, when no one can work." This year, we are privileged to have as our guest speaker, Dr. Everett Piper from Oklahoma Wesleyan University. Dr. Piper is the author of Why I Am A Liberal, and Other Conservative Ideas and the best-selling book Not a Daycare: The Devastating Consequences of Abandoning Truth. Dr. Piper has been featured on a variety of media outlets including FOX News, FOX and Friends, FOX Business Channel, The Glenn Beck Show, The Factor with Bill O'Reilly, NRA TV, The Dana Loesch Show, The Adam Carolla Show, and The 700 Club with Pat Robertson. He has also been a guest on dozens of talk-radio programs from coast to coast. He continually demonstrates that now is the time to engage.
Christian Heritage Academy is committed to developing American Christian Leaders who will be used of God to engage the culture for the sake of the gospel. As one reads the paper or listens to the news, it is evident that now is the time to engage. May it not be said of this generation as it was in the time of Ezekiel 22:30, "And I sought for a man among them who should build up the wall and stand in the breach before me for the land, that I should not destroy it, but I found none." May God continue to use CHA, our families and our churches to raise up a generation that is committed to upholding the truths of God's Word and living in the resurrected power of the Lord Jesus Christ.
We pray that you will "Save the Date" and make plans to join us on February 19, 2019. Invitations will be mailed in January. Table sponsorships and underwriting opportunities are available for this event.
Have a great week!
Dr. Susan Elaine DeMoss
Associate Headmaster