All in the Family
March 29, 2022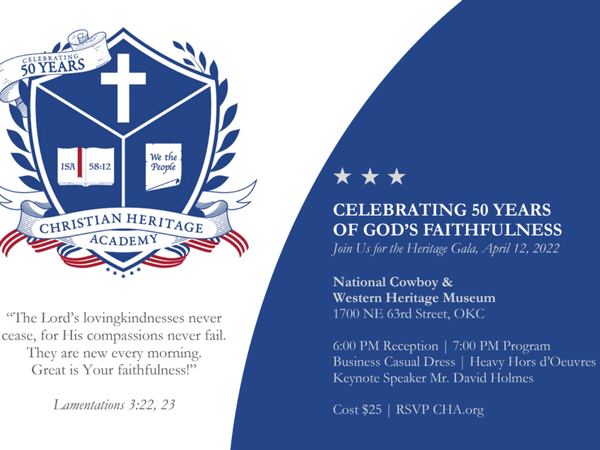 There is only one week left to register online for the Heritage Gala on April 12th at the National Cowboy and Western History Museum. The Gala's theme is "Celebrating the Lord's Faithfulness." The school is excited about this opportunity to connect with past and present friends and alumni of Christian Heritage Academy. One of the sayings at school is, "CHA is a family."
Registration will begin at 5:30 pm. CHA is a family. The mix-and-mingle reception with heavy hors d'oeuvres from 6-7 pm is designed for guests to enjoy each other and hear what the Lord has been doing. Several alumni and past faculty members will provide accompaniment during the reception. At 7 pm, the program will begin. Mr. Holmes, the School Ambassador, is the keynote speaker. Having been at school for forty-eight years, Mr. Holmes has a unique perspective on God's faithfulness. There will be a short program, and the first annual "Liberty Leader" winners will be announced.
If you have not registered, please use this link. Table sponsor and ticket sales proceeds go towards the Heritage Fund, the school's academic needs. We would like to thank our generous sponsors for this year's Heritage Gala.
Benefactor
Hidden Trails Country Club
Platinum
Broadway Tag
Executive
Kimray
Visionary
Barefoot Homes, LLC
Leatherwood Family
Stellar Realty
WatersEdge
Ambassador
Hill Insurance Agency
Homes by Breann
Immediate Care
Lingo Construction
Innovative Prosthetics and Research, LLC
Pioneer Real Estate
Representative Jon Echols
Reynolds Prime Real Estate Team
Legacy
Zac and Kate Graves
Immediate Care
Snider Family
Wolfard Family
Tim and Deborah Young
If you would like to sponsor a table or know someone who would like to participate in our 50th celebration, please use this link.