OPEN HOUSES FOR PROSPECTIVE FAMILIES
Are you interested in finding out more information about CHA? Please join us at one of our Open Houses. Flyers for our upcoming on-campus Open Houses are attached below. Contact Mrs. Darcel Small at dsmall@cha.org or Mrs. Teresa Johnston at tjohnston@cha.org for more information. They can also be reached by phone at (405) 672-1787. We offer several opportunities for your family to learn about CHA.
2019 HERITAGE BANQUET
Each year at CHA we come together to remember and celebrate what God has done here and continues to do. This celebration is called the Heritage Banquet. It is a time for life-long friends and families of CHA to celebrate God's faithfulness. It is a time for new friends and prospective families to come and hear what God is doing.
We will be joined by keynote speaker Dr. Everett Piper, President of Oklahoma Wesleyan University. Dr. Everett Piper is from Oklahoma Wesleyan University. He is the author of Why I am A Liberal, and Other Conservative Ideas and the best-selling book Not a Daycare: The Devastating Consequences of Abandoning Truth. Dr. Piper has been featured on a variety of media outlets including FOX News, FOX and Friends, FOX Business Channel, the Glenn Beck Show, The Factor with Bill O'Reilly, NRA TV, the Dana Loesch Show, The Adam Carolla Show, and the 700 Club with Pat Robertson. He has also been a guest on dozens of talk-radio programs from coast to coast.
Registration for the 2019 Heritage Banquet is now live. We hope to see you there and together learn why It's Time to Engage.
JH CHEER EARNS FIRST
The JH Cheerleaders traveled to Belton, Texas on January 12 to compete in the FCC Texas Showdown. The ladies won 1st place and were awarded the title of Grand Champion! Congratulations to this group of young ladies!
CHA CHEER WINS NATIONAL TITLE
Congratulations to our varsity cheerleaders on capturing the national title in Unlimited All Music Varsity Division! The cheerleaders work hard during the year to be able to perform in the FCC competition in Orlando, Florida. We are proud of them and their accomplishments. The squad received many individual and team awards and were recognized for coaching accomplishments. Visit https://www.facebook.com/CHACrusaders/ to see the full list. (CORRECTION: An earlier post said that the cheer squad won the Grand National Champion title; this was in error.)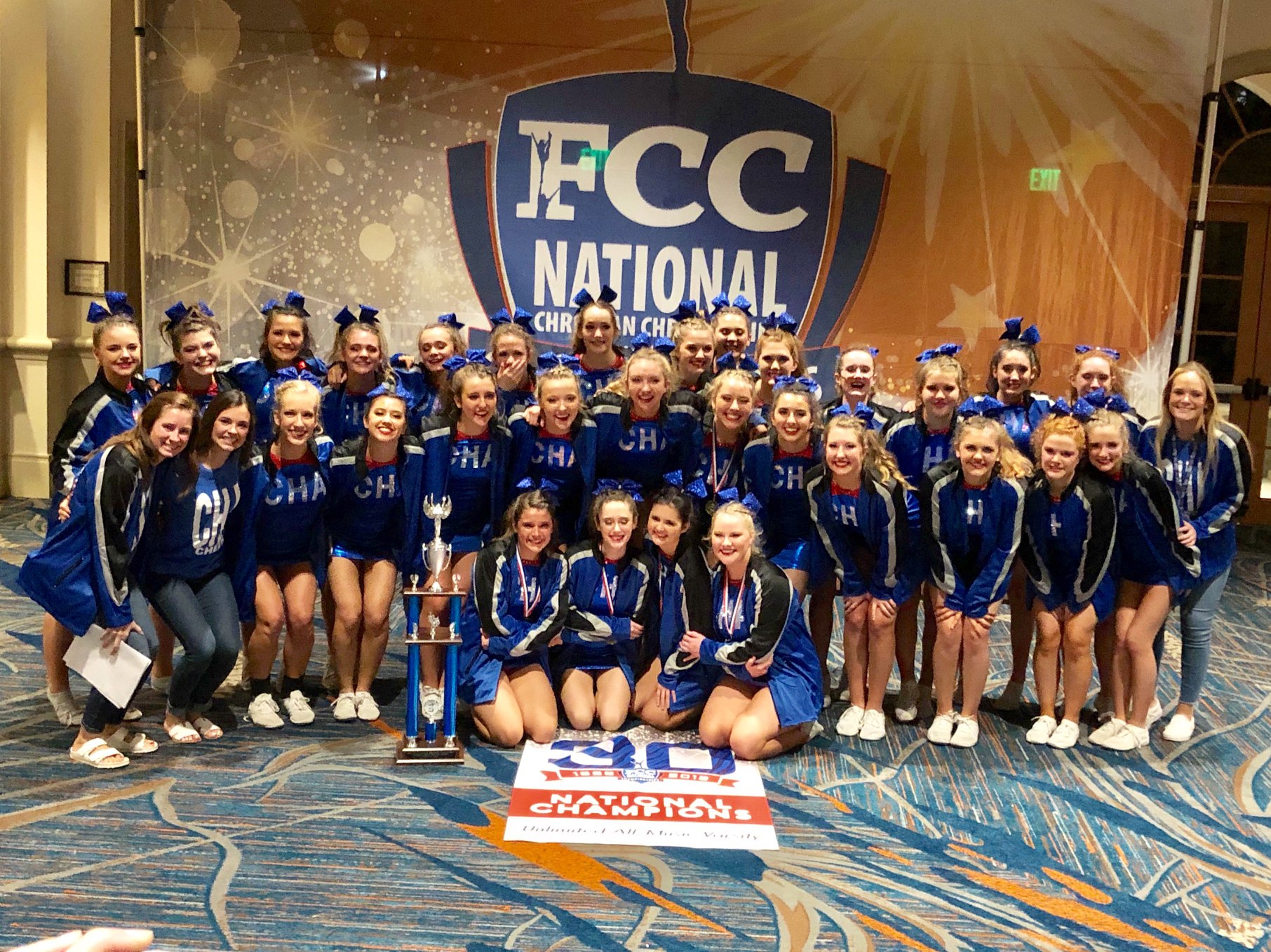 CHRISTMAS PROGRAM
12/13 6:30 PM in the CHA Auditorium. One of the highlights of the Christmas season at CHA is the annual Christmas program. We gather to worship the Lord through song and the dramatic presentation of the birth of Christ. For over 40 years, students in the fourth grade classes have the honor of retelling the second chapter of Luke. The most poignant and powerful scene is the actors one by one walking to the manger and kneeling to worship Christ the Lord. A momentous reminder to all in attendance to glorify God for the gift of sending his Son to redeem man. Guests are welcomed and encouraged to attend. Merry Christmas!
FOOTBALL STATE RUNNER-UP
Congratulations to the 2018 Crusader football team for their incredible achievement of finishing as runner-up in Class A. More importantly, we are grateful and blessed by the leadership, discipline, and Christlike character these young men have displayed on and off the field. Finally, thanks to the coaching staff for pouring themselves into the lives of these young men. It's a great time to be a Crusader!
GENESIS LEARNING CENTER
Be transformed by the renewal of your mind, that you may prove, what is the acceptable will of God. Romans 12:2
The Genesis Learning Center at Christian Heritage Academy is the new home for specialized learning services. The flagship specialized learning service at CHA is the Discovery Program. The Discovery Program is designed to equip students, who have challenges processing information, with strategies to address the challenges, with the goal of graduating from the program. Two additional programs are Search and Teach and RX for Reading and RX for Mathematics. Search and Teach is a service that detects weaknesses (Search) in readiness to read, and then addresses the weaknesses (Teach). RX for Reading and RX for mathematics is a multi-sensory approach to build and strengthen skills in reading and mathematics (grades 2 – 12).
Genesis – The origin or mode of formation of something; a beginning
New services are planned to broaden the scope of specialized learning for students at CHA. One of the newest programs was introduced this school year – The LOOP. The LOOP (Learning Opportunities Open Possibilities) is a kinesthetic learning lab, currently for students in pre-kindergarten and kindergarten. Future programs include these specialized learning services and support system: gifted/enrichment education; multi-tiered learning services – educational assistance, intervention, and therapy; databank of tutors; and whole-class training. Professional development for instructors is an additional component for these services.
Please join us for the dedication service of The Genesis Learning Center, Thursday, November 29, at 3:30 P.M. Mr. Ralph Bullard, first Headmaster at CHA who caught the vision for the Discovery Program, will be the keynote speaker. Mrs. Tami Low, Elementary Headmaster and Director of the Genesis Learning Center, will share additional details regarding future plans. The Genesis Learning Center is located on the second floor in the elementary building. Please call the elementary office, 405.672.1787, if you have questions.

KUFAHL NAMED NATIONAL VOLLEYBALL COY
Congratulations to Coach Heath Kufahl for being selected as a 2018 AVCA (American Volleyball Coaches Association) National High School Volleyball Coach of the Year!! Coach Kufahl has been invited to attend the 2018 AVCA Annual Convention in Minneapollis, Minnesota to coach the West team in the eleventh annual Under Armour All-America Match on Friday, Decemeber 14, 2018.
The administrators, faculty, staff and students at CHA are excited and proud of Coach Kufahl's recognition. Thank you, Coach for your outstanding leadership and Christ-like behavior on and off the court!! You are an example we want to follow.
THANKS CRUSADER ATHLETICS SPONSORS!
Crusader Athletics thanks all the sponsors of the 2018 Golf Tournament!
Lady Crusaders Volleyball is State Runner-Up
Our Lady Crusaders Volleyball team ended their season as State Runner-Up in Class 4A. The Lady Crusaders had another great year of playing and working hard on the court. Your dedication and determination does not go unnoticed! We are so proud of you and the sportsmanship you showed on and off the court! Great job to our Volleyball team!!!
Training American Christian leaders for every sphere of society