Opportunities
October 14, 2019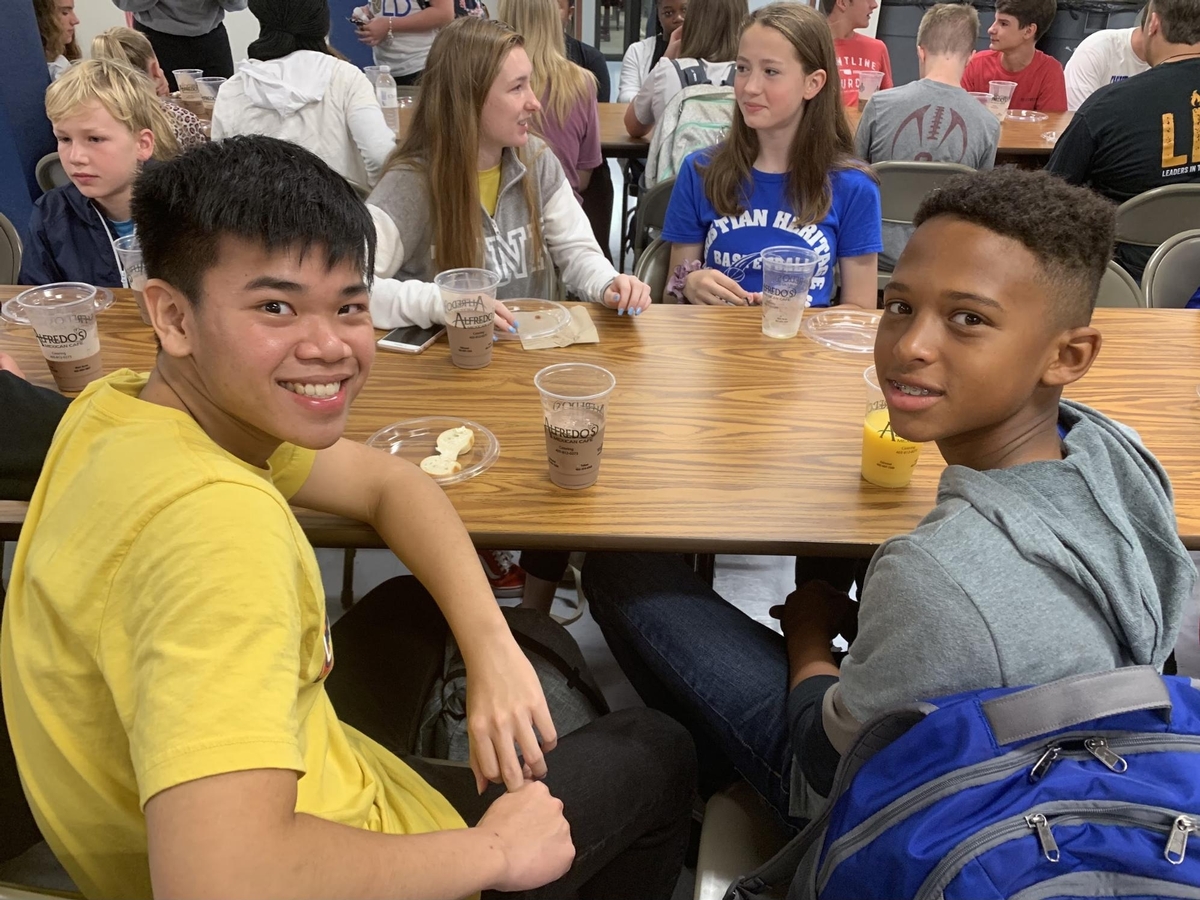 Each year, our senior class pairs with the incoming seventh-grade class. This program is known as "senior buddies." The senior buddies write their seventh-grade buddies throughout the year and hang the notes on their lockers. After See You at the Pole in September, the seniors hosted a breakfast for their buddies in the cafeteria. They created intentional questions to get-to-know their buddies. This program is an opportunity for seniors to invest in underclassmen.
Another mentoring opportunity is chapel chats. Chapel chats are held each quarter during chapel time. Senior men are grouped with younger men and senior ladies are grouped with younger ladies. The seniors teach a Bible lesson and pose discussion questions for the group. There is also a time for the chapel chat groups to build relationships. Chapel chats are an opportunity for seniors to lead and for students to engage in meaningful relationships.
One of the things that makes CHA special is the opportunity to build relationships with underclassmen. Class sizes and proximity allow students to know each other. Our athletic coaches also do a superb job of allowing varsity players to invest in younger players through sports camps and practices. These opportunities leave impactful impressions on the lives of younger teammates.
This year, God has blessed CHA with over 617 students enrolled. Because of the Opportunity Scholarship Fund, 105 of these students received a scholarship to provide them the opportunity to attend CHA. The Opportunity Scholarship Fund is a program established by the state of Oklahoma which allows taxpayers to divert some of their tax dollars to the private institution of their choice and receive a tax credit. This year, because of the generous tax donors at CHA, we were able to award $389,813 in scholarships.
Would you please prayerfully consider learning more about OSF and how you may use some of your tax dollars to give other students the opportunity to attend CHA? We are hosting informational breakfasts and lunches on October 31, November 14, November 21, and December 5. Breakfasts will be from 7:30 am-8:15 am in the Alumni Room. Lunches will be from 11:30 am -12:15 pm in the Alumni Room. All events are free and anyone (parents, grandparents, business owners, friends) who is interested in learning more about this opportunity is invited to attend.
We are grateful for the opportunity that God has given us to train more students to be leaders in every sphere of society.
Have a wonderful week!
Susan Elaine DeMoss, PhD
Associate Headmaster