The Invitation
January 07, 2019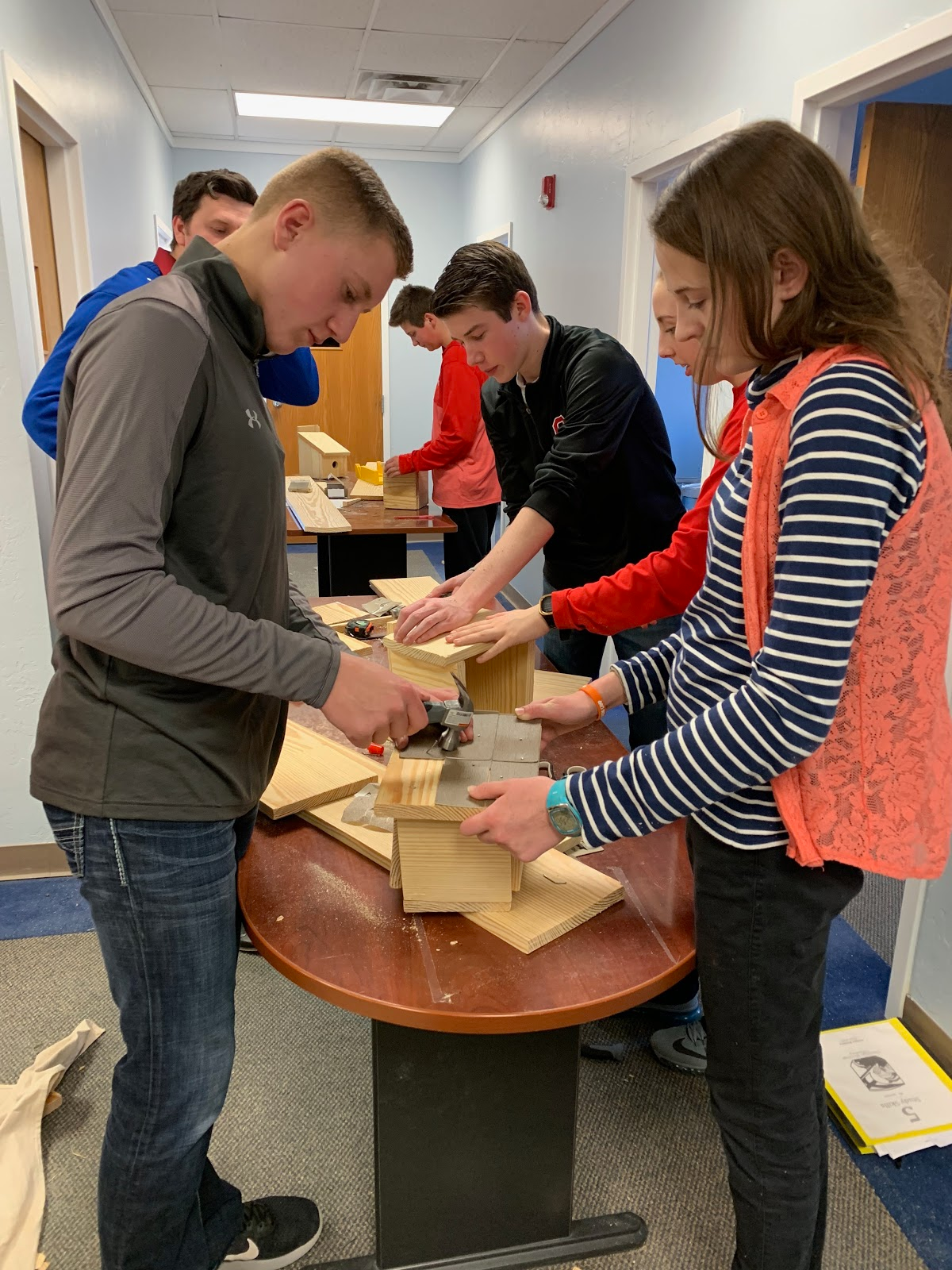 Recently, our eighth-grade Life Skills students built birdhouses. Two of our eighth grade teachers, Mr. Spencer and Mr. Moore, worked over the summer to develop a woodworking unit for the course. The summer work was made possible through the CHA teacher grant program. What a blessing it is to work with teachers who continue to develop their courses and engage students in active learning.
Throughout God's Word, birds are used as an illustration of God's provision and protection. Matthew 6 reminds us that birds of the air do not have to worry about what to eat, God feeds them. Matthew 10 exhorts us to remember that He also protects the birds of the air and not one falls to the ground without the Father knowing. Psalm 50:11 says, "I know all the birds of the hills, and all that moves in the field is mine." Why does God use over one hundred illustrations of birds? Luke 12:24 holds the key - if God provides for the birds, how much more so for us, "of how much more value are you than the birds!"
As 2019 begins, CHA has been reminded of God's provision and protection. The Lord has provided graciously through the Opportunity Scholarship Fund for CHA to offer scholarships to qualifying families for the 2019-2020 school year. Do you know anyone who would like to attend CHA but can't imagine how this would even be financially possible? Do they need to be reminded of how God provides for the birds and much more so His people? On January 21, CHA is hosting an informational open house at the DeMoss' home from 6:30pm-7:30pm. There will be another open house at the DeMoss' home on February 25 along with others throughout the spring semester. We would love to invite anyone interested in attending CHA next year to attend. If you know of someone who would like to attend this informal home gathering to learn more about CHA, please contact Mrs. Small at dsmall@cha.org.
In addition to the upcoming open houses, on January 23, CHA is hosting a Pastor's Appreciation Breakfast in CHA's cafeteria from 7:30am-8:30am. The event is free. Students are encouraged to invite their church's pastor to the event. We understand that there are several students who may share the same pastor. The first family to register their pastor will be allowed to attend the breakfast with their church pastor. All siblings in the first family to register may attend the event with their pastor. Mrs. Dawn Pruitt will notify any families for whom a pastor has been previously registered. If you have any questions, please contact Mrs. Dawn Pruitt at 672-1787, ext 204 or dpruitt@cha.org. The deadline to register your pastor is Friday, January 18. Please use the link below to register your pastor:
https://docs.google.com/forms/d/e/1FAIpQLScvAJkCGWXu2x9DldX5ZS-9kcL6oJpHAvBb7NbeHp1fshcY5w/viewform
Finally, within the next week, you should be receiving an invitation to the 2019 Heritage Banquet. This banquet is CHA's largest school-wide event which highlights the the mission and vision of our school. Prospective families are free. Tickets are $35. Online registration will be available starting January 11 at www.cha.org.
God's provision and protection for the birds is a powerful reminder of His invitation. He invites each of us is to rest in Him (Matthew 11:28), follow Him (Mark 1:17), and abide in Him (John 15:4).
I pray that you will consider each of these upcoming invitations at CHA and even more importantly accept Christ's invitation.
For His Glory,
Dr. Susan Elaine DeMoss
Associate Headmaster